Tuesday, June 5, 2018
ON THIS DAY
Live 90-minute variety series "Your Show of Shows," featuring Sid Caesar and Imogene Coca, concluded its five season run on NBC in 1954…Two other classic series ended: "The Milton Berle Show" on NBC in 1956 and "The George Gobel Show" on CBS in 1960…ABC presented its first broadcast of the Indianapolis 500 in 1965. The telecast, anchored by Charlie Brockman, was part of the network's 

Saturday

 "Wide World of Sports" telecast…In 1987, "Nightline" on ABC telecast its 1st "Town Meeting" and the subject was AIDS…Celebrity Birthdays: Mark Wahlberg is 47; actor Chad Allen ("Our House") is 44; "Gilmore Girls" Liza Weil is 41.

 

-Did You Know?:

Chad Allen played Tommy Westphall on NBC's "St. Elsewhere," the autistic boy who apparently imagined the entire six season run of the classic 1980s medical dramedy.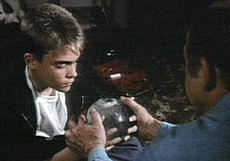 RATINGS BOX                                                                    
Monday, June 4, 2018
Household Rating/Share
NBC: 3.9/ 7, ABC: 3.6/ 6, CBS: 2.9/ 5, Fox: 2.3/ 4, CW: 1.1/ 2
-Percent Change From the Year-Ago Evening:
CW: +37, Fox: + 5, CW: + 4, ABC: + 3, NBC: – 2,
-Ratings Breakdown:
The ongoing 2018 Stanley Cup Final led NBC to Monday overnight victory, with an estimated 3.9 rating/7 share in households from 8-11 p.m. As a reminder, results for any live sporting event are always approximate.
There were two season premieres last night: Annual summer reality/competition "So You Think You Can Dance" on Fox and comedic "Whose Line is it Anyway?" on The CW. This now one-hour edition of "So You Think You Can Dance" opened with 2.8/ 5 (#4) in the 8 p.m. hour, which was 22 percent above the 2.3/ 4 for an original installment of "Gotham" on the year-ago evening. And two episodes of "Whose Line is it Anyway" averaged a modest 0.7/ 1 (#5) from 9-10 p.m., which was 50 percent below lead-in "Supergirl" (#5: 1.4/ 3 from 8-9 p.m.).
For the remainder of the analysis and the half-hour household breakdown for Monday, June 4, click here
Live+Same Day Data
Monday 5/28/18: Click here
Tuesday 5/29/18: Click here
Wednesday 5/30/18: Click here
Thursday 5/31/18: Click here
Friday 6/01/18: Click here
Live+3 Day Ratings – Week of May 21 – Click here
2017-18 Live+Same Day Season Ratings – Click here
Source: Nielsen Media Research
NEW PROGRAM ANNOUNCEMENTS
Netflix Confirms Dolly Parton Series
Netflix has ordered eight episodes of a new (and untitled) anthology series created by Dolly Parton, who will song as singer/songwriter, executive producer and will also appear in the series. Each episode will be based on a song by Parton.
Said Dolly Parton in a statement: "As a songwriter, I have always enjoyed telling stories through my music. I am thrilled to be bringing some of my favorite songs to life with Netflix. We hope our show will inspire and entertain families and folks of all generations, and I want to thank the good folks at Netflix and Warner Bros. TV for their incredible support."
ABC Orders "Family Food Fight"
ABC has picked up the culinary competition series "Family Food Fight" from Endemol Shine North America, based on the Australian format. Hosted by restaurateur, food maven and NY Times best-selling cookbook author Ayesha Curry, the eight-episode competition series will feature eight families from across the country sharing a common kitchen and a common goal: to claim the title of America's No. 1 Food Family.
The logline: Family teams will compete for a $100,000 prize, serving up authentic family dishes and drama. Tapping into each family's uniquely diverse cultural heritage, along with their countless culinary influences, "Family Food Fight" will take homestyle cooking to a new level as family recipes rich in tradition and shared over generations are put on display. Rather than five-star restaurant cuisine, the show will focus on relatable, yet aspirational, home-cooked meals, inspiring budding home cooks across the nation to don their aprons and get into the kitchen together.
An air-date and additional judges  for "Family Food Fight" will be announced at a later date.
PROGRAM RENEWALS AND CANCELLATIONS
Freeform Cancels Drama "Shadowhunters"
Freeform has opted against a fourth season of fantasy drama "Shadowhunters, but the network has ordered two additional episodes in the current third season to complete the story.  The expanded second half of the current third season, now 12 episodes and called "Shadowhunters: The Final Hunt," will air in spring 2019.
Debuting on Jan. 12, 2016, "Shadowhunters" follows Clary Fray (Katherine McNamara), who finds out on her birthday that she is not who she thinks she is but rather comes from a long line of Shadowhunters, human-angel hybrids who hunt down demons.
"We are very proud of 'Shadowhunters,' a series that broke new ground in the genre world and became a fan favorite," the network said in a statement."However, along with our partners at Constantin, we reached the very difficult decision not to renew the show for a fourth season. But, as big supporters and fans ourselves, Freeform insisted on and championed the filming of a special two-part finale that would give devoted fans a proper ending. The twelve episodes will air in spring of 2019. We want to thank our talented creators, producers, cast and crew along with our colleagues at Constantin for their hard work and dedication and to Cassie Clare for her incredible book series. We look forward to the final chapter of this breakthrough drama." 
TV UPDATES
TV Tuesday Podcast
The PI's Douglas Pucci discusses the cancellation of "Roseanne" and the potential spin-off series focused on Sara Gilbert as Darlene; and the upcoming Fox fall line-up. To listen, click here
Maybe ABC Does Not Have to Cancel "Roseanne" After All – Click here
Summer 2018 TV Series Premiere Schedule
Mark your calendars…what follows is a listing of the key program launch dates this summer. Click here
SPORTS
–2018 NBA Finals Schedule on ABC – Click here
-2018 NHL Stanley Cup Final TV Schedule on NBC and NBCSN – Click here
-2018 NFL Regular Season Weekly TV Schedule on Fox, CBS, NBC, ESPN, and NFL Network – Click here
-2018 NFL Monday Night Football Schedule on ESPN – Click here
UPFRONT RECAPS
For the fall 2018 primetime schedule grid, click here
–10 Key Highlights From Network Upfront Week – Click here
-Aggressive ABC to Launch 6 New Series This Fall: Click here
-CBS Announces 5 New Series This Fall; 8 in Total – Click here
-NBC: 3 New Shows This Fall; 9 in Total in 2018-19 – Click here
-Fox to Launch Just 2 New Series This Fall, Plus "TNF": Click here
–The CW Expands to Sundays, Adds 3 New Series – Click here
-Turner Networks' Focus is On Faandom – Click here
-Univision Plans for Future Amid Continued Cost Cutting – Click here
-YouTube Boasts Both Scale and Safety at NewFronts – For more, click here
-Hulu Crosses 20 Million Subscriber Mark – Click here
-Linear Model Still Matters for Optimistic PopTV – Click here
-Connector's Remain Sony Crackle's Key Target – Click here
-Nat Geo Combines Science, Exploration Storytelling to Broaden Brand – Clickhere
-"New" Discovery Touts Scripps Networks Expansion at Upfronts: Click here
-With "Portlandia" Done, IFC Renews "Brockmire," "Documentary Now" – Clickhere
-A+E Celebrates Females in Women's Upfront – Click here
-Nickelodeon to Reboot "Blues Clues;" Introduce New Version of "TMNT" – Clickhere
MARK YOUR CALENDARS
Upcoming CW summer drama "The Outpost" will premiere Tuesday, July 10 at 9 p.m. ET. "The Outpost" follows Talon ("Jessica Green, "Ash vs Evil Dead"), the lone survivor of a race called "Blackbloods." Years after her entire village is destroyed by a gang of brutal mercenaries, Talon travels to a lawless fortress on the edge of the civilized world, as she tracks the killers of her family. On her journey to this outpost, Talon discovers she possesses a mysterious supernatural power that she must learn to control in order to save herself, and defend the world against a fanatical religious dictator.
Also on the CW is new drama "Burden of Truth," which opens on Wednesday, July 25 at 8 p.m. ET. Kristin Kreuk plays a big-city lawyer who returns to her hometown to take on what she thinks is a simple case, only to find herself in a fight for justice for a group of sick girls.
Season three of OWN drama "Greenleaf" will premiere on Tuesday, August 28 and Wednesday, August 29 at 10 p.m. each night. In the upcoming season, all the turbulent forces that Grace's (Merle Dandridge) return to Memphis unleashed threaten to destroy not just the church her family built, but the family itself.
ON THE AIR 

TONIGHT


ID debuts "Wonderland Murders"…Season premieres: "Intervention" on A+E, "Face Off" on Syfy, "Murder Comes to Town" on ID, "Humans" on AMC, "Younger" and "Teachers" on TV Land……For the primetime schedule for Tuesday, June 5, click here
TRIVIA CHALLENGE    
Not a Regularly Scheduled Series
Which one of the following theatrical movies did not continue as a regularly scheduled TV series of the same name?
a) "Dirty Dancing"
b) "Foul Play"
c) "Freebie and the Bean"
d) "From Here to Eternity"
e) "A League of Their Own"
f) they all did
The answer to yesterday's question…
Fans of "A Different World" will recall Marisa Tomei pre-Oscar as student Maggie Lauton in the first season of NBC sitcom "A Different World" (in 1987-88). But she was not the original actress cast in the role. Who was it?
a) Holly Hunter
b) Julianne Moore
c) Rosie O'Donnell
d) Michelle Pfeiffer
e) Meg Ryan
…is: e) Meg Ryan, who chose to focus on her film career. 
Trivia All-Stars
Steve Bitterman, Gerry Bixenspan, Larry Collins, John Ferlazzo, Maureen Goldman, Gordon Purcell, Michelle Stanton