Weekend 2 Performance
8:20 PM PT in the Gobi Tent
Set To Go Up Midnight PST Following Performance From Ariana Grande
First J-Pop Group to Ever Play Coachella!
Rolling Stone calls Weekend 1 performance "the best damn rave party…"
"Curious onlookers found themselves pulled into a series of escalating spectacles, where EDM met Japanese culture: happy hardcore joining big-room house and other sects of mainstream EDM. Dynamic and divergent, Perfume's set was a welcome and intriguing showing, and further evidence that Coachella will continue to take daring risks in the future."
– Consequence of Sound
"For over a decade and a half, the trio known as Perfume have been on a path to change up what it means to a J-pop girl group. They've become representatives of futuristic, elegant electro-pop, and their most recent album Future Pop took steps that much further by weaving future bass into their sound."
– Billboard
"Anyone who had never listened to J-Pop before attending Coachella will now be hooked because of Perfume."
– Noisey
"Their highly anticipated festival set will mark a turning point for J-pop in the West, as well as an international career high for a group already celebrated as phenomenons in the Eastern music market."
– PAPER
"…there are no shortage of contenders vying to be the next big… J-pop breakthrough act in the US. Based on the new Coachella poster, perhaps… Perfume are up next."
– Stereogum
"Perfume has been one of the most ubiquitous and highest-selling artists in Japan for more than a decade, with a distinctive electro-pop sound backed by a stylish, futuristic image. But the trio's musical output is only one part of the equation. Perfume's live shows are a dazzling collision of technology and choreography that turn cavernous arenas into sci-fi wonderlands."
– The Verge
Following a Coachella Weekend 1 performance that 
Rolling Stone
 called "
the best damn rave party on Sunday night
," J-pop superstars 
Perfume
have announced an official web stream of their Weekend 2 performance. The webstream will go up on the Coachella website at
midnight PST, 
immediately
following the performance of headlining act 
Ariana Grande
. Set to perform at 
8:20PM
 at the 
Gobi Tent
 on Sunday night, Perfume are making history as the first J-pop girl group to ever play the legendary music festival. Featuring innovative technology and incredible EDM synthpop music filled with lazers, lights and projections, the girls are ready to bring another groundbreaking performance to close out the year.
These festival dates are part of the North American leg of their world tour, WORLD TOUR 4th FUTURE POP, which has made stops in major markets like Los Angeles, Chicago and New York City, as well as other cities across North America, including Toronto, San Jose, Dallas and Seattle. A full list of remaining dates, cities and venues can be found below.
Perfume WORLD TOUR 4th FUTURE POP tour is in support of their recently released album Future Pop– Available now to stream, Future Pop features hit singles "Let Me Know," "Tokyo Girl," "If You Wanna" and "Mugenmirai." The follow up to their critically acclaimed album Cosmic Explorer, Future Pop was an instant success, reaching #1 on the iTunes Electronic Albums Chart in over 20 countries within the first 48 hours of release, and has received praise from the likes of Idolator, L'Officiel USA and Billboard.
From partnering to introduce groundbreaking technology with NTT docomo, the #1 selling telecommunications company in Japan, to their truly mind blowing work with tech company Rhizomatiks (who worked on the closing ceremony at the 2016 Rio Olympics), multi-platinum selling J-pop girl group Perfume are no strangers to pushing the boundaries of music and technology.
Future Pop is the follow up to their critically acclaimed album Cosmic Explorer, which was named one of Rolling Stone's Top 20 Pop Albums of 2016 and received praise from the likes of Billboard and Vogue. A massive tour followed, with the girls playing arenas in Japan before heading stateside to play sold out venues across the USA. In between their musical success, Perfume also found time to work with major fashion brands – including a collaboration with UNIQLO, showcasing HEATTECH, and now, their fashion line Perfume Closet– as well as technology companies, introducing groundbreaking technology in a livestream partnership with NTT docomo, the #1 selling telecommunications company in Japan; making an appearance in a commercial for Apple's iPhone, alongside the likes of Selena Gomez and Bill Hader; and partnering with Panasonic to create their first ever 360 music video and launch the new AWA Dance app.
For more information on Perfume, click HERE.
Perfume WORLD TOUR 4th FUTURE POP North American dates
Wednesday, April 17          San Jose, CA                  City National Civic
Friday, April 19                  Los Angeles, CA              Ace Theatre
Sunday, April 21                Coachella, Valley, CA        Coachella
For more details of the tour, visit Perfume WORLD TOUR 4th "FUTURE POP" Special Website: http://www.perfume-web.jp/cam/FUTUREPOP/world/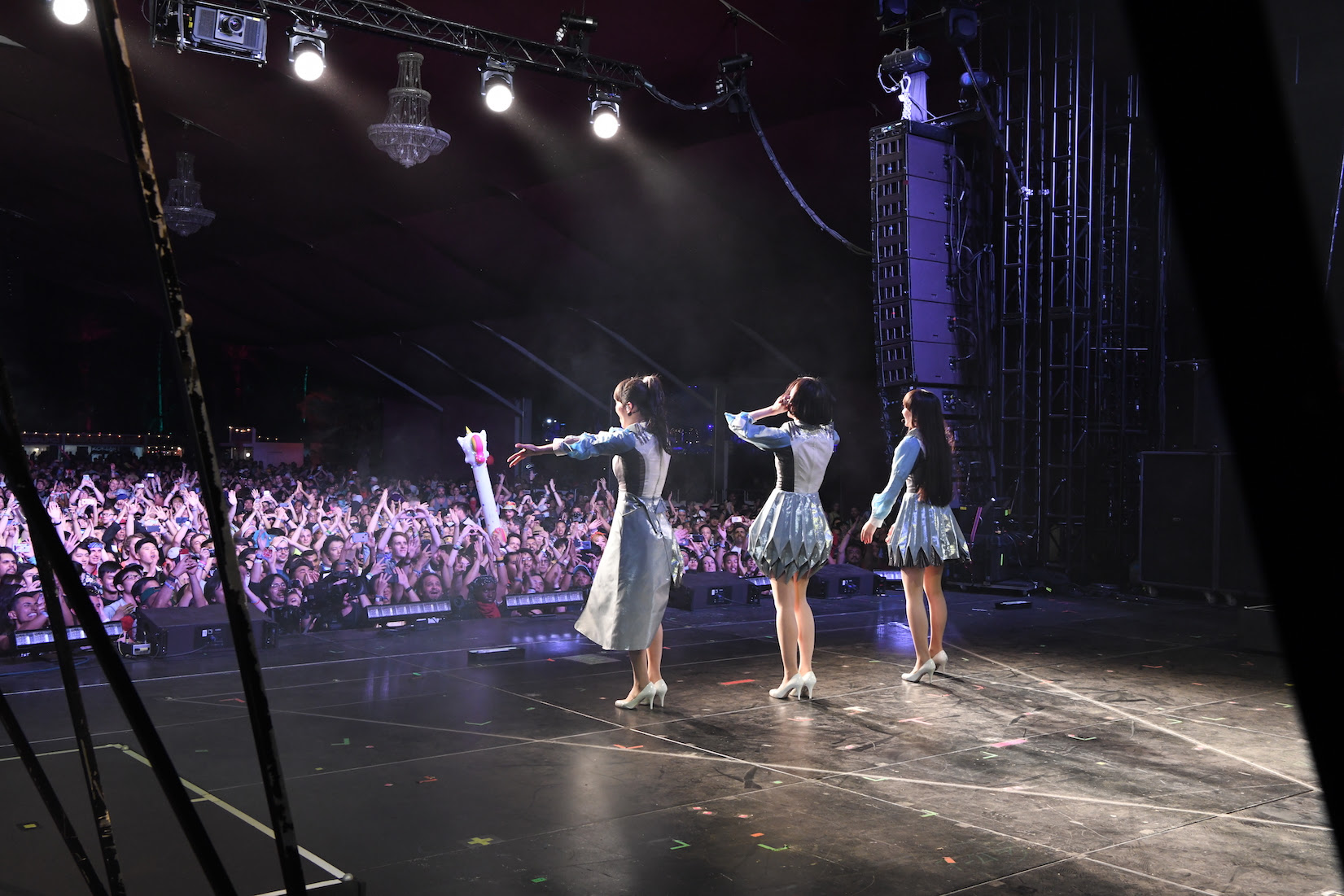 ###