RUBELL FAMILY COLLECTION IS PLEASED TO ANNOUNCE
THE UPCOMING OPENING OF ITS EXHIBITION
Women Artists from the Rubell Family Collection
at the National Museum of Women in the Arts in Washington, D.C.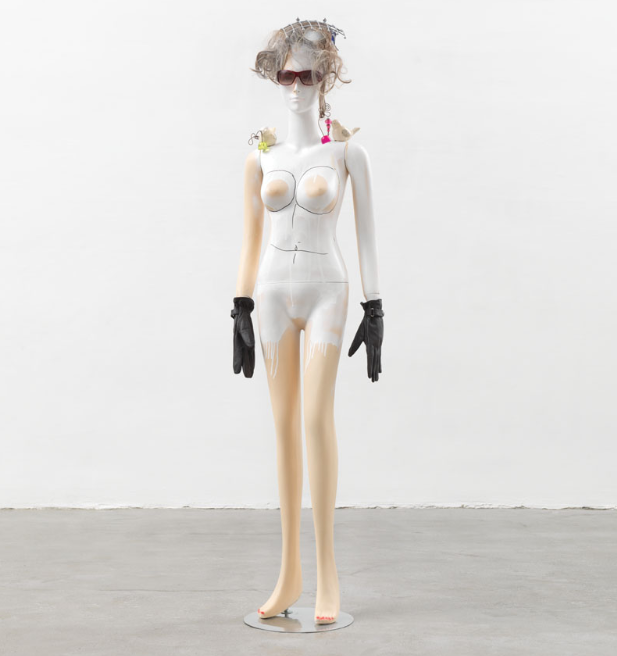 Isa Genzken, Schauspieler, 2013, mannequin, wig, glasses, lacquer, felt pen, leather gloves, ceramic figurines, metal and acrylic glass, 72 1/4 x 18 1/2 x 10 1/2 in. (184 x 47 x 27 cm), acquired in 2015
Miami—
The Rubell Family Collection/Contemporary Arts Foundation is pleased to announce that
NO MAN'S LAND
:
Women
Artists
from
the
Rubell
Family
Collection
, which was on view in Miami from December 2015 through May 2016, will be presented at the National Museum of Women in the Arts (
NMWA
) in Washington, D.C. from September 30, 2016 to January 8, 2017.
Featuring work by 37 artists from 15 countries NO MAN'S LAND in Washington, D.C. centers on two themes: the process of making and images of the female body, both topics that extend from the feminist art movement of the 1970s. Further, the artists featured at NMWA create paintings or sculptures, traditionally the most revered forms of fine art. In the hands of NO MAN'S LAND artists, time-honored themes and mediums are avenues for experimentation, play, and subversion.
As inventors, makers, and disruptors, the artists recast handcraft and women's work and amplify presentations of the female body. They also distinguish "no man's land" as an open, adaptable, and liberated space.
Speaking about the D.C. iteration of the exhibition, Mera Rubell said, "It is especially meaningful for us to have NO MAN'S LAND open in our nation's capital around the time when women's leadership in all arenas is front and center in the public consciousness."
NMWA Director Susan Fisher Sterling said, "We are thrilled to be the first traveling venue forNO MAN'S LAND. From the original exhibition, which extended over 45,000 square feet at the Rubell Family Collection, our curators worked with RFC to create a tightly focused exhibition centered on the body and the process of making. These themes define some of the most compelling works made by contemporary women artists."
The National Museum of Women in the Arts strives for gender parity by highlighting the creativity and power of women's artworks. The museum champions women through the arts by collecting, exhibiting, researching, and creating programs that advocate for equity and shine a light on excellence. It is the sole museum in the world dedicated to recognizing the creative contributions of women. Programmatically, it works to explore issues of women, arts, and social change, making sure that women artists are always at the table.
Artists in NO MAN'S LAND at NMWA include:
Nina Chanel Abney,  Tauba Auerbach,  Amy Bessone,  Kerstin Bratsch,
Cecily Brown,  Miriam Cahn,  Mira Dancy,  Karin Davie,  Marlene Dumas,
Isa Genzken,  Sonia Gomes,  Jennifer Guidi,  Cristina Iglesias,  Hayv Kahraman,
Natasja Kensmil,  Yayoi Kusama,  Li Shurui,  Helen Marten,  Suzanne McClelland,
Josephine Meckseper,  Dianna Molzan,  Wangechi Mutu,  Maria Nepomuceno,
Celia Paul,  Solange Pessoa,  Elizabeth Peyton,  Rozeal,  Jennifer Rubell,
Analia Saban,  Dana Schutz,  Shinique Smith,  Aya Takano,  Mickalene Thomas,
Rosemarie Trockel,  Kaari Upson,  Mary Weatherford,  Anicka Yi
ABOUT THE RUBELL FAMILY COLLECTION/CONTEMPORARY ARTS FOUNDATION
The Rubell Family Collection (RFC) was established in 1964 in New York City by Mera and Donald Rubell. It is now one of the world's largest, privately owned contemporary art collections.
In Miami, Florida, since 1993, the RFC is exhibited within a 45,000-square-foot repurposed Drug Enforcement Agency confiscated goods facility. The museum and its extensive research library are publicly accessible. The Contemporary Arts Foundation (CAF) was created in 1994 to expand the RFC's mission inside the paradigm of a contemporary art museum.
The collection is constantly expanding and features such well-known artists as Jean-Michel Basquiat, Keith Haring, Jeff Koons, Cady Noland, Cindy Sherman and Kara Walker. In addition to displaying internationally established artists, the RFC actively acquires, exhibits and champions emerging artists working at the forefront of contemporary art.
Each year the Foundation presents thematic exhibitions drawn from the collection with accompanying catalogs. These exhibitions often travel to museums around the world. Recent exhibitions have been presented at the Detroit Institute of Art, San Antonio Museum of Art, San Francisco's Asian Art Museum, and Madrid's Fundación Santander.
The Foundation maintains an internship program, a lecture series and an extensive artwork loan program to facilitate exhibitions at museums around the world. Its ongoing partnership with Miami-Dade County Public Schools enables thousands of schoolchildren to visit and engage with the Foundation every year. The Foundation was recognized in 2015 with both the Sara T. Maddox Support of Art Education Award presented by the Dade Art Educators Association and the Friend of Art Education Award presented by the Florida Art Education Association.