Vanessa Hudgens
wore
Hearts On Fire
diamond rings and a
Borgioni
diamond ring to 
'Powerless' Press Line during Comic-Con International 2016 
at Hilton Bayfront on

July 22, 2016

in San Diego, California.
Hearts On Fire:
Founded in 1996 by Glenn and Susan Rothman, Hearts On Fire became the world's first branded diamond, the only diamond in the entire world, which is deemed perfectly cut every single time. Hearts On Fire diamonds have a brilliant difference that you can actually see, a perfection seen nowhere else in the world. Hearts On Fire has rapidly evolved into the highest standard of diamond cutting perfection.  More than just diamonds, Hearts On Fire is about romance and passion, love and emotion and creating perfect moments.
Today, Hearts On Fire is sold in more than 500 retail stores in 32 countries around the world, including more than 10 Hearts On Fire stores globally, as well as on HeartsOnFire.com and authorized HOF retailer websites. It has become the standard of perfection when proposing marriage or recognizing any perfect moment in your life. www.heartsonfire.com
•Instagram: @heartsonfireco
•Facebook: www.facebook.com/heartsonfire
•Twitter: @heartsonfire
Borgioni: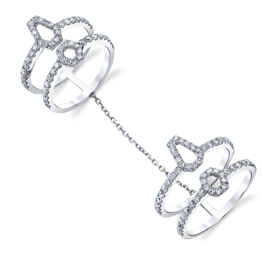 Created by mother-daughter duo Rhonda and Tiffany Bartolacci, Borgioni Private Collection is a brand that fuses bohemian vintage with medieval rock-n-roll. Named after the family matriarch, Emily Rose Borgioni Bartolacci, and inspired by the vintage pieces she left behind, their collection was born from the desire to redesign & wear their family heirlooms. Key pieces include their signature 18k gold handcuffs, bejeweled skulls, diamond spikes, and nature-inspired pieces. Borgioni is expressive, exotic and crafted for every day wearability. For more information, please visit www.borgionis.com
•Instagram: @borgionijewels
•Facebook: www.facebook.com/borgioni
•Twitter: @Borgioni