It's Valentine's Day weekend and for those of us who are single, it's time to hunker down and stay put. In fact, I'll use Omicron as an excuse to keep out of circulation.

I have a number of single friends with whom I commiserate. We're of the mindset that finding a mate in Palm Springs is as elusive at finding an affordable apartment. But hope springs eternal, and I'll keep putting myself out there. Just not this weekend…

So NBC scored with the rights to the Winter Olympics and The Super Bowl. For many of us, that means watching figure skating and the halftime show! (And the commercials…)

There's still plenty to see and do locally this weekend. It's a good time to purchase Modernism Week tickets. See our blog on affordable things to do here. And I'll see you next week after the candy hearts and flowers have expired.

For the latest, follow our socials @GayDesertGuide and @KGAY1065 and listen to KGAY Palm Springs wherever you may be!

Brad Fuhr, your Gay Desert Guide & KGAY 106.5 Palm Springs
#ILoveGayPalmSprings
#ILoveGayCatCity
#ShopLocal
#WearADamnMask (N95 or KN95 preferred!)
This Weekend in #ILoveGayPalmSprings
February 11–13, 2022
We're keeping you updated on the weekend's Top Events: The 24th Annual Tour de Palm Springs, Super Bowl LVI (aka Mary J. Blige Concert), The Ten Tenors, Taste of Jalisco Festival Cathedral City, Caliente Doo Wop Sock Hop, The Righteous Brothers, Pitbull, Air Supply, Intersect Art Show, "I Ought to be in Pictures" from Desert Theatreworks..and more!
Tour de Palm Springs
The Tour de Palm Springs, one of the largest cycling charity events in America, takes place this weekend with registration and a vendor expo on Friday, February 11 from 12–8 pm, and Saturday, February 12 from 6 am–5 pm. The Expo features live entertainment, beer garden, local jazz bands, 1 & 3 mile Honor Walk, raffle and more. Watch out for street closures downtown. More info
Super Bowl LVI
For many, the Super Bowl on Sunday, February 13 is all about the halftime show, featuring Mary J. Blige! (okay, along with Dr. Dre, Snoop Dogg, Kendrick Lamar, and Eminem). Then there's the entertaining ads, like this Palm Springs-centric spot: [check it out]. Streetbar has a Tailgate Party kicking off at 3:00 p.m. and bars all around town will have "the big game" on their screens. Agua Caliente Casinos are hosting three Big Game Viewing Parties at each of their properties: Rancho Mirage, Palm Springs, and Cathedral City. Get tickets

The Ten Tenors
The most popular act in the history of the McCallum Theatre, The Ten Tenors are back just in time for Valentine's Day, performing multiple evenings (and matinees) from February 9–14. Also in February at the McCallum: Kristin Chenoweth (Feb. 18 & 19), Jay Leno (Feb. 20), Straight No Chaser a cappella (Feb. 23), and Broadway's Jersey Boys (Feb. 25–27). Get tickets
We have a featured HOT DEAL for savings at Men's Grooming Spot, plus deals at Bear Wear, Coachella Valley Coffee Co., AMP Sports Lounge, Kitchen 86, Jolene's, Haus of Poke, Il Giardino, Runway, Rick's Desert Grill, Oscar's, Thai Smile, Desert Mischief and more! See All Deals
Saturdays with Ross Mathews on KGAY!
Saturdays with Ross Mathews is on KGAY 106.5 every Saturday at 10:00 a.m. on the FM dial in the Coachella Valley and streaming worldwide online! Listen for Ross to give his insider's perspective as a judge on RuPaul's Drag Race Season 14! Brought to you by the John White Real Estate Group. Ask your smart speaker to "Play K-G-A-Y Palm Springs."
KGAY 106.5 Palm Springs is "The Pride of the Valley," and you can show your Pride by proudly wearing our rainbow logo! Check out our selection of apparel and other items emblazoned with the best radio station call letters: KGAY! Shop now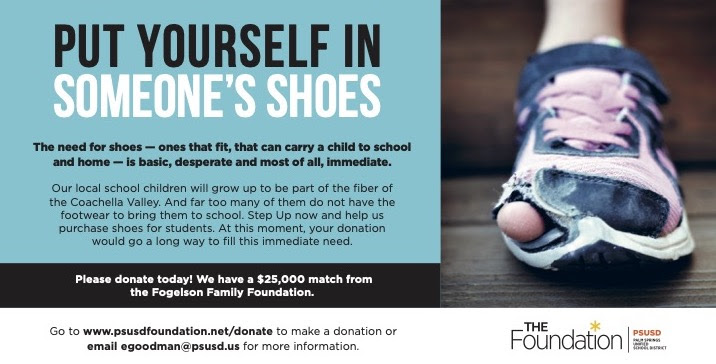 At this moment, some 2,500 students in the Palm Springs Unified School District are classified as "homeless"… living in a car or motel, crowded in with other families or literally on the streets.  Aside from the issues brought about by the lack of a permanent roof over their head, a great many of them — a huge number — need shoes.
Donate to the PSUSD Foundation Shoes N' Smiles program today and take advantage of up to $25,000 in matching funds from the Fogelson Family Foundation:
www.psusdfoundation.net/donate
Articles We're Reading: Bookmarks
Don't Miss Our Emails
Here are some methods that should help:
Move this email to "primary" or "priority" inbox.
Mark this email as "Not Spam" if you do find it in your Spam folder.
"Star" the email, mark it as important, and/or create a label for this series of emails.
Add "info@gaydesertguide.com" to your address book