We end February with one of the coldest few days on record – snow capping our mountains and burying the top of the tramway, frosting the lawns and consuming lots of BTU's by our pools and spas.

It will be a distant memory next week as we welcome in March (in like a lion?) with temps topping 90. And just in time, too! From arts festivals to the BNP Paribas Open, warmer weather will be welcome. The Red Dress/Dress Red Party is sold out, but KGAY has a pair of tickets that you can win. Listen this weekend for details.

Rely on us for recommended LGBTQ friendly and owned businesses, bar and restaurant finds, drag shows, and much more!

For the latest, follow our socials @GayDesertGuide and @KGAY1065 and listen to KGAY Palm Springs wherever you may be!

Brad Fuhr, your Gay Desert Guide & KGAY 106.5 Palm Springs
#ILoveGayPalmSprings
#ILoveGayCatCity
#ShopLocal
This Weekend in #ILoveGayPalmSprings
February 25–27, 2022
We're keeping you updated on the weekend's Top Events: The Bears are Back for IBC Weekend! Plus: Black History Month Parade & Town Fair, Modernism Week wraps up with Yard Sale Sunday, Jersey Boys at the McCallum, McCormick's Exotic Car Auction, "Salty" final weekend, "Palm Springs Getaway" opens, ZZ Top, ABBA Tribute, La Quinta Car Show..and more!
IBC Weekend
Hibernation is officially over! International Bear Convergence (IBC) comes to Palm Springs this weekend at Hotel Zoso. IBC is the premier winter event for Bears, welcoming thousands of frisky muscle bears, cubs, chubs, chasers, admirers and their fans to have the time of their lives. KGAY's own DJ Galaxy will be spinning at Sunday's Redemption in Paradise Pool Party, which runs 10 am–4 pm. After all the fun you'll be having, you're going to need to redeem your sins, why not do it by the pool!? More info
Black History Month Parade & Fair
The Palm Springs Black History Committee and the City of Palm Springs James O. Jessie Desert Highland Unity Center will host the 35th Annual City of Palm Springs Black History Month Parade and Town Fair on Saturday, February 26 from 11 am–4 pm. The Parade will take place on Palm Canyon Drive in Downtown Palm Springs. Immediately following the Parade, the Town Fair will be held at the New City Park in Downtown Palm Springs. More info

Modernism Week Yard Sale
Modernism Week 2022 wraps up this weekend, and on Sunday, February 27, Modern Bear and H3K Home present the annual Modernism Week Yard Sale from 8 am–Noon in the H3K parking lot (501 S. Palm Canyon Dr). This is one of Modernism Week's most popular free events, with carefully curated vendors offering their highly coveted mix of vintage Mid-century decorative furnishings, fashion, and collectibles ~ you may score a deal or a total steal!
We have a featured HOT DEAL for savings at Haus of Poké, plus deals at Nothing Bundt Cakes, Coachella Valley Coffee Co., AMP Sports Lounge, Kitchen 86, Jolene's, Il Giardino, Grand Central, Runway, Oscar's, Destination PSP, Desert Mischief and more! See All Deals
KGAY 106.5 and Gay Desert Guide are giving away 10 pairs of tickets to our special MOGO Silent Disco event on Friday, April 8. We have 8 ways for you to [ENTER TO WIN]. Dance the night away listening to our own DJ Galaxy as you groove your way around downtown Palm Springs! (To learn more about MOGO Silent Disco, click here)
Saturdays with Ross Mathews is on KGAY 106.5 every Saturday at 10:00 a.m. on the FM dial in the Coachella Valley and streaming worldwide online! Listen for Ross to give his insider's perspective as a judge on RuPaul's Drag Race Season 14! Brought to you by the John White Real Estate Group. Ask your smart speaker to "Play K-G-A-Y Palm Springs."
KGAY 106.5 Palm Springs is "The Pride of the Valley," and you can show your Pride by proudly wearing our rainbow logo! Check out our selection of apparel and other items emblazoned with the best radio station call letters: KGAY! Shop now
Welcome New Partner: This Week
S&D Medical Management provides private caregiving, Medicare intermittent visits, Medi-Cal shift care nursing, hospice care and staffing. S&D is the name to know for patient-centered care when you need assistance for a loved one. They contract with many providers and handle the details so you don't have to. Learn more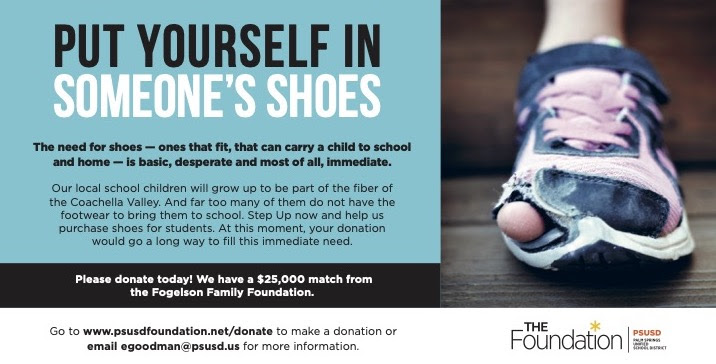 At this moment, some 2,500 students in the Palm Springs Unified School District are classified as "homeless"… living in a car or motel, crowded in with other families or literally on the streets.  Aside from the issues brought about by the lack of a permanent roof over their head, a great many of them — a huge number — need shoes.

Donate to the PSUSD Foundation Shoes N' Smiles program today and take advantage of up to $25,000 in matching funds from the Fogelson Family Foundation:
www.psusdfoundation.net/donate
Articles We're Reading: Bookmarks