Intersect Palm Springs Opens
Thursday, February 9
Offering a Multitude of Events and Exhibitions
Here are 12 ways to have Fun at the Fair:
Hashtag Happenings: Poetry & Performance Series



Curated by Shana Nys Dambrot
An organic series of time-based experiential works of art engage audiences with sound, movement, AR, and storytelling — all happening live throughout the run of the show.

A Striped World, performance by Amy Kaps. Photo: Eric Schwabel
Image courtesy of Rusha & Co.
"Weekenders" Curated by Evan Pricco
Rusha & Co, Booth #207
Evan Pricco, the Editor-in-Chief of Juxtapoz Magazine, curates this booth, "Weekenders," exploring what art shares with sports: the subconsciously instinctual movements and collective memories, actively changing and yet nostalgic. The show is about taking universality and merging it with active abstraction.
 

Lakers photographer Andrew Bernstein
Art as Sports: A Conversation with Andrew Bernstein, Justin Berardi, and LJ Rader
Friday, February 10
10 am
Intersect Theatre
A conversation with NBA Hall of Fame and long-time Lakers photographer Andrew Bernstein and LJ Rader, the creator of the Instagram account ArtButMakeItSports*, moderated by producer and director Justin Berardi.
 

*See related special exhibition here.
Funky Mini Chrome Donut, 2020-2022, by artist
Jae Yong Kim

Friedrichs Pontone, Booth #214

This immersive installation of 100 individually crafted ceramic donuts made by artist Jae Yong Kim will be shown for the first time on the opening night of Intersect Palm Springs.


Jae Yong Kim, Funky Mini Chrome Donut, 2020-2022, courtesy of Friedrichs Pontone
Image courtesy of Quality Coins
Poker with Quality Coins and the High Desert Poker Club
Saturday, February 11
2 – 5 pm
Quality Coins, Booth #516
Quality Coins and the High Desert Poker Club will host a no-limit Hold'em cash game flush with art prizes and a few surprises.

Hear The Sound Of My Voice Talking Drown The Sound Of My Feet Walking, Poems and Drawings by Devin Troy Strother
Coloured Publishing
Intersect Palm Spring's official bookseller partner There will be a pop-up from LA-based Coloured Publishing—creator of artist books, zines, loose-leaf publications, prints, t-shirts, and buttons—the Fair's official bookseller partner.

DIY Card Art, But Make It Sports
Sunday, February 12
1 pm
Art, But Make It Sports, Booth #407
Cards and art materials will be provided that kids (and kids at heart) can use to cut up, paint, splice together, etc: create your very own sports card art to take home with you.

Image courtesy of ArtButMakeItSports
Closing Party / "Big Game" Party, in partnership with Il Corso and Grit Development
Sunday, February 12
3:30 pm
Il Corso, downtown Palm Springs
Ticketed closing event with food and drink in celebration of the fair and to 
celebrate the "Big Game."

Photo: Luigi Estuye
Danielle Giudici Wallis, Tangled Web, courtesy of the artist

The Curated Spaces of
Intersect Palm Springs 2023
Featuring Four Curated Exhibitions Image:
Art, But Make It Sports Curated by LJ Rader
Foregrounded: Abstraction in the Desert Curated by Bernard Leibov
Investigations: Zombie Forest Curated by Sant Khalsa and Andi Campognone, presented by MOAH
Sunset Unlimited Curated by Devin Troy Strother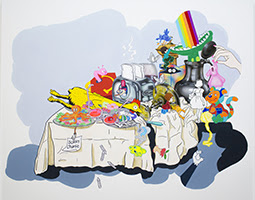 Griffin Goodman, A Table For Two, One Happy Meal, A Box Of Crayons, Leftovers For The Cat, And A Chef's Kiss, courtesy of ANDREW RAFACZ
Griffin Goodman Paintings 
ANDREW RAFACZ, Booth #209
Paintings by Griffin Goodman* incorporate the iconography of youth culture, popular branding and logos, and well-known personalities through free-form juxtapositions of appropriated imagery sourced from popular culture and art history.

*See related Talk Friday, February 10 at 4 pm here.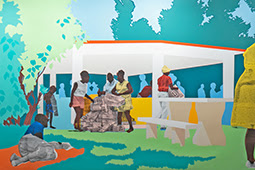 Kristopher Wright, Summer Cyprus, courtesy of K Contemporary
New work by Kristopher Michael Wright
K Contemporary, Booth #402
Kristopher Michael Wright uses both print and painting techniques together to construct images full of color and complexity, taking influence from American iconography, machine diagrams, anatomical studies, and personal histories.

Whale Paintings by Craig Kucia
The Pit, Booth #312
Craig Kucia continues his series featuring the image of a whale, portrayed in profile, emerging from the ocean, painted in a wide variety of techniques, and recalling Moby Dick.

Craig Kucia, Untitled (Whale, purple sky), courtesy of The Pit
Lead Logistics and Transit Partner
Official Online Marketplace
Tickets
Day Pass – $25
Multi-Day Pass – $50
All Access Pass – $100Dates and Times
Opening Night Preview
Thursday, February 9 | 5 – 8 pm
(VIP/All Access Pass only)General Admission
Friday, February 10 | 11 am – 6 pm
Saturday, February 11 | 11 am – 5 pm
Sunday, February 12 | 11 am – 3 pm (10 – 11 am VIP hour)
Health and Safety
To ensure the safety of all visitors, participants, and staff, Intersect Palm Springs is closely monitoring the news, and state and local CDC guidelines, to inform our safety protocols. Please visit the City of Palm Springs website for the most up-to-date information, here.About Intersect Art and Design
Intersect Art and Design produces relevant cultural events that connect galleries with art lovers and collectors, highlighting art and design locally, regionally, and globally. Overseen by Managing Director Becca Hoffman, the Intersect team is committed to building community and connectivity in the locations of the fairs. Through cultural partners, programming, and curatorial vision, Intersect offers year-round opportunities for dialogue, engagement, and inspiration. Visit the website at IntersectPalmSprings.com and follow along on social media @IntersectArtandDesign.Join the Conversation
Connect with us on Instagram and Facebook @IntersectArtandDesign and hashtags #IntersectPalmSprings and #IntersectFairs.