ON THIS DAY
Sitcom "The Jamie Foxx Show" began its five season run on The WB in 1996…HBO historical drama "Rome," which was set in the 1st century BC and looked at the rise of the Roman Empire through the eyes of two Roman soldiers, debuted in 2005. Five seasons were planned, but it aired for only two seasons due to high production costs…Celebrity Birthdays: "Starsky & Hutch" star David Soul is 75; "The Wonder Years" moderator Daniel Stern is 61; actress Jennifer Coolidge("Two Broke Girls") is 57; country singer Shania Twain is 53; "Beverly Hills, 90210" star Jason Priestley is 49; actor Jack Black is also 49; "That's So Raven" star Kyle Massey is 27; "Here Comes Honey Boo Boo" tot Alana Thompson is 13.

Did You Know?:
"The Jamie Foxx Show," which concluded on Jan. 14, 2001, ran for 100 episodes. Fox drama "Fringe," which starred Joshua Jackson and ran from 2008 to 2013, also produced exactly 100 episodes.
RATINGS BOX                                                                   
Monday 8/27/18
Household Rating/Share
NBC: 3.1/ 5, ABC: 3.0/ 5, CBS: 2.3/ 4, Fox: 2.2/ 4, CW: 1.0/ 2
-Percent Change from the Year-Ago Evening:
CW: +43, ABC and Fox: no change, CBS: – 4, NBC: – 6
-Ratings Breakdown:
It was summer Monday overnight business as usual with 8-10 p.m. reality entries "Bachelor in Paradise" on ABC and "American Ninja Warrior" on NBC tied for dominance at a 3.6 rating/6 share each in households. ABC, unfortunately, continues to squander the lead-in support on recent relationship/reality entry "The Proposal," which slipped to a series-low 1.7/ 3 at 10 p.m. (#3). Comparably, that trailed "Elementary" on CBS (#1: 2.7/ 5) and a repeat of "America's Got Talent" on NBC (2.1/ 4) by 39 percent and 19 percent, respectively.
For the remainder of the analysis and the breakdown by network and by half hour for Monday, August 27, click here
Live+Same Day Data
-Monday 8/20/18: Click here
-Tuesday 8/21/18: Click here
-Wednesday 8/22/18: Click here
-Thursday 8/23/18: Click here
-Friday 8/24/18: Click here
Live+7 Day Ratings – Week of August 13: Click here
Positive Start for 'Disenchantment' as Netflix's Third-Youngest Skewing Debut To-Date
"Disenchantment," the animated comedy series from The Simpsons and Futurama creator Matt Groening about a princess of a medieval fantasy kingdom known as Dreamland, got off to a decent start for Netflix during its premiere weekend of Aug. 17-19, according to Nielsen's SVOD Content Ratings.
Within the first three days of its availability (8/17-8/19), the show's first episode received an average minute audience of 4.4 million viewers (U.S. audience only); over 3.2 million or 73 percent of that audience stemmed from the Persons 18-49 demographic.
Within the first three days of its availability (8/17-8/19), the show's first 10 episodes received an average minute audience of nearly 2.1 million viewers; about 1.6 million among adults 18-49.
"Disenchantment" delivered similar aggregated viewing levels to Netflix's "Lost in Space" (6.6 million vs. 6.4 million) across the episodes. In addition, the demographic skew between the two series were similar, with both being predominantly male and with those viewers accounting for 60 percent of the audience.
But where "Disenchantment" differs from "Lost in Space" is in median age, with the audience for the animated program skewing much younger (29 years old) than for the reboot of the classic sci-fi series (43 years old).
Of the Netflix originals analyzed, "Disenchantment" had one of the youngest audiences for premiere day with the exception of "13 Reasons Why" and "Fuller House" (each, a median age of 25 years old). In comparison, Stranger Things (Season 2) had a median age of 30. For the individual episode charting, click here
Source: Nielsen Media Research
NEW PROGRAM ANNOUNCEMENTS
Apple Orders Isaac Asimov's "Foundation"
Apple has given a 10 episode straight-to-series order for an adaptation of Isaac Asimov's science fiction "Foundation" trilogy after picking up the show for development this past spring. The show comes from David S. Goyer ("Batman Begins," "Man of Steel") and Josh Friedman ("Terminator: The Sarah Connor Chronicles") and it chronicles the thousand year saga of The Foundation, a band of exiles who discover that the only way to save the Galactic Empire from destruction is to defy it.
This is the second Apple show to start as development and get a series order, joining "Are You Sleeping," starring Octavia Spencer.
TV UPDATES
Fuse Media to Revive the "ALMA Awards"
Fuse Media has entered into a multi-year agreement with UnidosUS, previously known as NCLR (National Council of La Raza), to become the exclusive multi-platform media home of the organization's ALMA Awards (American Latino Media Arts). The partnership to revive the ALMA Awards—following a three-year hiatus—was jointly announced today by Fuse Media CEO Michael Schwimmer and UnidosUS President and CEO Janet Murguía. The partners also revealed that they will present a re-envisioned show celebrating Latino heritage and leading entertainment and media personalities.
Netflix Signs Deal with Author Harlan Coben
Netflix has entered into a multi-year exclusive overall deal with international bestselling author Harlan Coben. As part of the deal, Netflix will work with Coben to develop 14 existing titles and future projects, including his upcoming novel" Run Away" into an English language and foreign language series, as well as films, to premiere on Netflix around the world. Coben will serve as an executive producer on all projects.
Harlan Coben, the perennial #1 New York Times bestselling author of thirty novels, has sold over 75 million books and his work has been translated into 43 languages around the world. He currently has two crime drama series on Netflix — "Safe," starring Michael C. Hall, which premiered earlier this year and the 2015 French series "No Second Chance."
The PI in Moneyish.com by Funto Omojola – Here's Why So Many of Our Favorite Shows Are Coming Back – Click here
PI Podcast with Douglas Pucci
The PI's Douglas Pucci reviews new Fox comedies "Cool Kids" and "Rel." With Scott Nolte on Northwest Iowa's Y100.1 FM (KUYY). To listen, click here
SPORTS
2018 College Football Week 1 TV and Announcer Schedule 
2018 U.S. Open Tennis TV Schedule on ESPN Networks – Click here
2018 WNBA Playoffs TV and Announcer Schedule on ESPN2, ESPNEWS and ABC – Click here
2018 Little League Baseball World Series Schedule on ABC, ESPN and ESPN2 – Click here
2018-19 NBA Regular Season Schedule on TNT, ESPN, ABC and NBA – Clickhere
MARK YOUR CALENDARS
Lifetime special "Jordin Sparks: A Baby Story" will premiere on Thursday, Sept. 6. After secretly eloping with her now husband Dana Isaiah following their six-month whirlwind romance, the hour documents the newlyweds as they build a new life together while balancing their careers, with a baby on the way.
"This is Life with Lisa Ling" will return for a fifth season on CNN on Sunday, Sept. 23 at 10:15 p.m. ET (following the season 12 premiere of Anthony Bourdain Parts Unknown). The eight-part investigative docuseries follows Ling as she travels across America immersing herself in communities that are often unknown or misunderstood. In In the season premiere, she embeds with law enforcement and community members combating the deadly resurgence of one of the world's most dangerous gangs, MS-13.
The third season of drama "StartUp" will open on streamer Sony Crackle on Thursday, Nov. 1. A sneak peek will be offered on Amazon devices through the Sony Crackle app starting Monday, October 22. In these 10 new episodes, friends will be fighting it out for power and will be threatened by what might be the most dangerous criminal organization of all: the U.S. Government. Oscar winner Mira Sorvino, joins the cast in a guest starring role, portraying NSA Agent, Rebecca Stroud who has come to investigate ArakNet. Zachary Knighton ("Santa Clarita Diet"), Tyler Labine ("Deadbeat," "Tucker and Dale vs. Evil") and Jason Kravits ("Unbreakable Kimmy Schmidt"), also join the ensemble cast this season. Returning are Adam Brody ("The League"), Ron Perlman ("Sons of Anarchy"), Edi Gathegi ("The Blacklist"), Otmara Marrero ("Graceland") and Addison Timlin ("Californication").
ON THE AIR TONIGHT
Season premieres: "Greenleaf" on OWN and "Ink Master" on Paramount… Season finales: "Hit the Floor" on BET, "Jeff Ross Presents" and "The Jim Jeffries Show" on Comedy Central, "Mr. & Miz." and "Chrisley Knows Best" on USA, "Counting Cars" on History…For the programming options on Tuesday, August 28, click here
TRIVIA CHALLENGE    
Life in Long Island

Which one of the following TV series was not set in a town in Long Island in New York?"

a) "Dear John"
b) "Everybody Loves Raymond
c) "Growing Pains" 


d) "Kevin Can Wait"
e) they all were

The answer to yesterday's question… 

What was the name of Opie's (Ronny Howard) dog on classic sitcom "The Andy Griffith Show."

a) Gulliver
b) Henry
c) Jack
d) Reckless
e) Teddy
f) he did not have a dog

…:a) Gulliver, who appeared in only the pilot episode of "The Andy Griffith Show." For a look,click here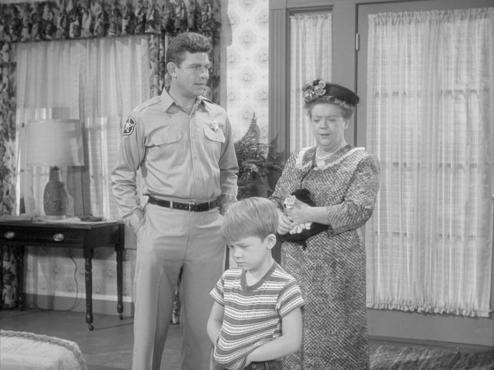 Trivia All-Stars
Gerry Bixenspan, Tom Condosta, Martha Gonzalez, Bob Ingersoll, Tom Moore, Richard Naldrett, Gordon Purcell