A legend actress, Olivia de Havilland dies at 104 years old
Oscar Winner for "Gone with the Wind"
"A wonderful lady, actress and gem has been lost to Hollywood…"
---
By Patrick Donovan – Author/Screenwriter
US Navy Disabled Veteran – 1980 – 1991
Seattle, WA (The Hollywood Times) 7/26/2020
---
Source: WikiPedia
Dame Olivia Mary de Havilland DBE (/də ˈhævɪlənd/; July 1, 1916 – July 25, 2020) was a French-British-American actress. The major works of her cinematic career spanned from 1935 to 1988. She appeared in 49 feature films, and was one of the leading actresses of her time. She was also one of the last surviving stars from the Golden Age of Hollywood Cinema, until her death in 2020. Her younger sister was actress Joan Fontaine.
De Havilland first came to prominence as a screen couple with Errol Flynn in adventure films such as Captain Blood (1935) and The Adventures of Robin Hood (1938). One of her best-known roles is Melanie Hamilton in the film classic Gone with the Wind (1939), for which she received her first of five Oscar nominations, the only one for Best Supporting Actress.
De Havilland departed from ingénue roles in the 1940s and later received acclaim for her performances in Hold Back the Dawn (1941), To Each His Own (1946), The Snake Pit (1948), and The Heiress (1949), receiving nominations for Best Actress for each, winning for To Each His Own and The Heiress. She was also successful in work on stage and television. De Havilland lived in Paris since the 1950s, and received honors such as the National Medal of the Arts, the Légion d'honneur, and the appointment to Dame Commander of the Order of the British Empire.
In addition to her film career, de Havilland continued her work in the theater, appearing three times on Broadway, in Romeo and Juliet (1951), Candida (1952), and A Gift of Time (1962). She also worked in television, appearing in the successful miniseries, Roots: The Next Generations (1979), and Anastasia: The Mystery of Anna (1986), for which she received a Primetime Emmy Award nomination and won the Golden Globe Award for Best Supporting Actress in a Television Movie or Series. During her film career, de Havilland also collected two New York Film Critics Circle Awards, the National Board of Review Award for Best Actress, and the Venice Film Festival Volpi Cup. For her contributions to the motion picture industry, she received a star on the Hollywood Walk of Fame.
I interviewed my good friend, Dan Curry, VSE, 7-time Emmy Winner and veteran of over 100 feature films about Olivia de Havilland.
Patrick Donovan: This is Pat Donovan with the Hollywood times, and I wanted to see how you're doing and we're speaking to Dan Curry, VES and seven time Emmy winner for Star Trek and veteran of over a hundred feature films. How are you doing today?
Dan Curry: Very well, I'm pleased to be, back on my feet and past quarantine, contracting COVID from a source, I have no idea how I contracted it and I consider myself exceptionally fortunate in that my symptoms were not severe and when you see the horror stories that other people experience, I'm very, very grateful that, It was kinder to me than it has been to many others.
Patrick Donovan: Yes, sir. And you are up in that critical age range too, as well, but you want to thank St. Joseph's Hospital in LA for saving your life. Tell our readers and listeners about that experience, how vital it is to wear a mask, please.
Dan Curry: Yeah. St. Joseph's is one of the great hospitals in LA and they're actually in Burbank, a part of LA and, they have a great staff. and another thing when I hear all this anti-immigrant rhetoric going around based on the people who were wonderful to a person at st. Joseph's. If we had no immigrants, we would have no staff in any of our hospitals. I would say 70% of the people I encountered were foreign born and they came to our country not only to pursue a better life for themselves and their families, but they bring their technical expertise and most important, their human kindness to our country. And, and I had nurses from West Africa, from Europe, from the Philippines and they were absolutely terrific human beings and it, like I said, if we didn't have immigrants, there'd be nobody in our hospitals.
And when I see people complaining that it's tyranny to wear a mask. if it wasn't so pathetic, it would be laughable. If they have no idea, what's here in the is when I see people say, Oh, I can't get my nails done. Oh, it's tyranny. I can't get a haircut. You have no idea. A little taste of combat would change your mind about what tyranny is and I think about our parents' generation and they fought world war II. They gave up many of them, their lives or five years of their lives to deal with that war and not one complaint from anybody, they just, here it is, we'll deal with it. And when I hear this whining about, how wearing a mask is an infringement upon, your freedom, in my opinion, it's a sign of willful ignorance because, and disrespect for your fellow citizens wear a mask. How tough is it?
Patrick Donovan: You can really, you know, say that with the fact that, I'm glad you're well that wearing a mask, you did everything right. You "social distanced" and you still got it and you have no idea, so it's there, it's out there and it can happen to any one of us.
Dan Curry: Yeah. And I have no idea how I got it. And a minor point a mask also has to cover your nose. When I see people walking around with a mask on, but their nose was hanging out it's the equivalent of wearing your baseball hat backwards and then shielding your eyes with the Palm of your hand and wondering why they can't event something to shade your eyes. It's, it's really sad. and it's like, I, I it's. Unbelievable. That's such common sense. It's so rare.
Patrick Donovan: Yes, it is. And so, I'm glad you're well, so we're talking about… go ahead.
Dan Curry: The Great Olivia de Havilland.
Patrick Donovan: Yes, we are! The great Olivia de Havilland passed away today at 104 years old. Can you tell us what, you know, stuff the public doesn't know about her, who she was as an actress, some of her great films for life and any possible stories that you can share with our readers and listeners, please?
Dan Curry: Her family is great note. Her father was the inventor of the Great De Havilland aircraft engine that powered, the British RAF, during World War II and helped to put the Nazis into the trash heap of history where they belong.
And the, I first became aware of her and the great, Adventurous of Robin Hood with Errol Flynn, produced in 1938, the, the, the best Robinhood film ever made by anybody on this planet. And she was 19 when she made it and she brought a, a quality that's, that's not acting it's born in you and her grace, her spirit, and yet she had an inherent, but eminently lady like sensuality that she brought to her characters and Errol Flynn was certainly enchanted by her.
And they did a lot of films together and, and Robin hood that I don't think there's a single scene where you actually see her hair. She's always in kind of a medieval head covering, but she, her diction, the way she carried herself, that's what really made her a star and of course, people know her from gone with the wind, but she was also in the great film Gaslight where her husband in a rare role where, Charles Foyer was an evil person trying to drive her insane. And her acting career lasted for, for decades and always made an impact. She was also the sister to Joan Fontaine, who I remember from Ivanhoe starring Robert Taylor.
She was also active in her private life, involved with many worthy causes that she, enthusiastically supported throughout her life.
Patrick Donovan: I know that because she was active in her work with president Harry Truman to Ronald Reagan and even called before the House, un-American Activities Committee to recount her experiences with the Independent Citizens Committee. Can you remember that? I have never heard about that. Do you, what was that like then?
Dan Curry: Well, you and I share ignorance on her role in that thing. What I remember about the. House un-American Committee was that it was guided by, Senator Joe McCarthy, who, another person who wound up, being driven out of office by, I don't. Remember who said it, but somebody said, "Sir, have you no decency?" And that basically put an end to the reign of terror that Senator McCarthy had on American politics.
Patrick Donovan: It was really something else. I mean, she had been acting up until recently, wasn't it? A few years back or a decade or so?
Dan Curry: Yeah, I think she was acting well into her nineties and she always bought, brought that grace and dignity and gravitas to the screen.
Patrick Donovan: My mom is up there 85 and she loves watching TCM and some great old films and, and he told me a lot about Robin Hood. I didn't how great it is. Can you elaborate more on Robin Hood why it is the best Robin Hood that is out there.
Dan Curry: Well, first of all, I became acquainted with Robin Hood well before I saw any screen version of Robin Hood. I got enchanted with the legend of Robin Hood through two books and the great thing about the Errol Flynn version, directed by Michael Cartese, was that even from the opening title sequence, there were these beautiful watercolors that tell you that you're going into a special view of the medieval world that had storybook qualities.
It also captured the sense of fun that is missing from a lot of the recent Robin Hood films, where Robin Hood was kind of a prankster and he enjoyed showing up the sheriff of Nottingham as much as he enjoyed, dispatching his men into their post biological phases of existence, and, the costume, the comradary, the way all the classic characters, Little John, Friar Tuk, Alan Adale, Will Scarlet, they're all presented very much like they are in the books and the legends, and they're not trying to turn Robin Hood into Die hard.
It's Robin Hood and the archery is the center of the Robin Hood legend with the use of the English Longbow. They hired the greatest American archer of the time, a man named Howard Hill to teach Errol Flynn and the others at archery. There's a famous scene where Robin Hood breaks out of a castle early in the movie and men at arms keep coming out the door to chase him. Robin Hood is up on the tower and in reality, Howard Hill is standing nearby, and he shoots the arrows free flying and had to hit the stuntman on the shield on the chest or the guy would die.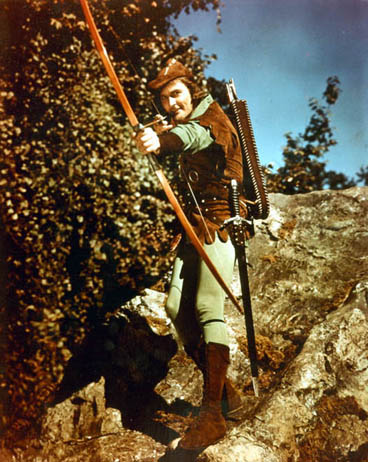 In 1938 every time the guy stepped out the door the way I understand it, and it may not be true, of course, but he got 200 bucks for every time he got shot and he'd just go in and change the armor in order to convince him he could do that. As the legend goes Howard Hill shot a series of eggs on stands at an intimidating distance and then the guy believes he could do it.
Lake Sherwood out in Ventura County is named after Sherwood Forest because part of Robin Hood was shot there and Robin hood has a friend who convinced him to cast aside the legendary English Longbow and use an Asiatic compound bow with the arrows on the incorrect side.
Patrick Donovan: And I think Jamie Foxx was in that film, right?
Dan Curry: Well, I don't want to mention anybody particularly it's just the idea that, the pride of medieval England was kind of tossed aside for whatever vision the filmmakers had for it. It was just, it was like a, showing, Jesse James using an AR 15.
Patrick Donovan: [Laughter] Oh my gosh. But listen, you didn't ever get a chance to work with Olivia did you at all or Joan Fontaine?
Dan Curry: They were a little before my time. I never got a chance to work with them, but my respect for them both was abiding.
Patrick Donovan: Well, listen, I want to thank you for this little bit of going down memory lane and sharing with us your remembrances of some of the things that Olivia de Havilland did. I'm glad you're doing much better and, one more time, and again, please share with us why it's so vitally important for everyone to wear masks and social distance.
Dan Curry: Yeah. Well, that's just a scientific reality that, what a mask does is it prevents you from infecting other people and a lot of people are symptom free. They don't know they have it. There's a famous story of a young man in his early twenties who went to a party with his friends, came back and three weeks later, his grandparents, were gone. His father was in a medically induced coma, on an intubator and, to me, it's a sign of respecting your neighbors and the virus doesn't know what political party you're in. So, if you think we're not wearing a mask as a sign of political loyalty, you're really, really confused.  One more thing about Olivia de Havilland.
Patrick Donovan: Yeah?
Dan Curry: She's best known, at least to me, for her many roles that she did together with Errol Flynn, she did a lot of great westerns. They Died with Their Boots On, Dodge City and they always had that magical chemistry between them because in real life, they had such great affection for each other and respect for each other as people and that was always a joy to me to see them on screen together.
Patrick Donovan: Where can we see some of those movies online. So, what do you recommend?
Dan Curry: Of course, adventurous Robin Hood Dodge city. They Died with Their Boots On, kind of a whitewash of General Custer. I particularly liked Dodge City. It's great fun.  Usually paired with Alan Hale, Sr. usually with him and he was Little John in the Robin Hood film as he was the classic sidekick for Errol Flynn as well as a lot of their films together.
Patrick Donovan: Cool again, where can we find those? Are they on TCM, A&E, Netflix?
Dan Curry: Turner Classic runs some a lot and the, Starz Western Channel runs a lot of those. And I think Turner Classic has a service that if you go online, if they don't have copies, they will make a high quality DVDs for you, of those films that you can watch and any person interested in his history of film should be aware of and see those films say they are essential.
Patrick Donovan: Yes, they are. Well, thank you for your time, Dan, please get, well, we'll talk again.
Dan Curry: Okay. Bye. Bye Pat.