Wednesday, May 23, 2018
ON THIS DAY
Two "Star Trek" series concluded: Syndicated "Star Trek: The Next Generation" in 1994 and "Star Trek: The Next Generation" on UPN in 2001…Also ending was ABC drama "Lost" after six seasons in 2010…A bizarre moment: Tom Cruise professed his love for his then girlfriend Katie Holmesby jumping on Oprah Winfrey's couch in his infamous appearance on the daytime syndicated talker "Oprah" in 2005.

-Did You Know?:
Matthew Fox found his second regularly scheduled series success after"Party of Five" on "Lost," of course. But the original plan for his character, Jack Shephard, was to be killed by the monster in the pilot episode after the airplane crash. And the actor cast in the role was Michael Keaton. But ABC told the producers that they shouldn't kill off the hero so soon in the series and the script was changed. After the change, Michael Keaton backed out of the role because he did not want to commit to a regular series.
RATINGS BOX                                                                    
Tuesday, May 22, 2018
Household Rating/Share
ABC: 5.9/10, NBC: 4.3/ 7, CBS: 3.4/ 6, Fox: 1.9/ 3, CW: 1.0/ 2
-Percent Change from the Year-Ago Week:
ABC: +16, NBC and Fox: -14 each, CW: -17, CBS: -19
-Ratings Scorecard:
Six series concluded their seasons – "Roseanne," "Splitting Up Together" and "For the People" on ABC; "NCIS" on CBS; "The Voice" on NBC; and "The Flash" on The CW. And there was one series finale, ABC's "The Middle," which concluded its nine-season run with a one-hour installment at a respectable 4.6 rating/8 share in the household overnights from 8:30-9:30 p.m. Lead-in "Roseanne" ended on a typically rock-solid note at a 7.3/13 (#2) in the 8 p.m.half-hour, which was 78 percent above short-lived sitcom "Downward Dog" on the year-ago evening (4.1/ 7 on 5/24/17).
The bottom-line: The success of the "Roseanne" revival has demonstrated why the traditional linear platform still matters.
For the half-hour breakdown for Tuesday, May 22, click here
Live+Same Day Data
Monday 5/21/18: Click here
Weekly Ratings Scorecard – Week of May 14
What follows are the Live + Same Day rating results for the week of May 14. Change versus the year-ago week appears in parntheses:
-Total Viewers:
CBS: 6.58 million (+ 9), NBC: 5.04 (+ 2), ABC: 4.50 (-12), Fox: 2.54 (- 5), CW: 1.20 -10)
-Adults 18-49:
NBC: 1.1 rating/5 share (+10), ABC: 0.9/ 4 (-25), CBS: 0.8/ 4 (no change), Fox: 0.8/ 3 (no change), CW: 0.4/ 2 (no change)
-Adults 25-54:
NBC: 1.4/ 5 (+ 8), CBS: 1.3/ 5 (no change), ABC: 1.2/ 4 (-20), Fox: 0.9/ 3 (-10), CW: 0.4/ 2 (-25)
-Adults 18-34: 
NBC: 0.7/ 4 (+17), Fox: 0.5/ 3 (-17), ABC 0.5/ 3 (-37), CW: 0.3/ 2 (-25)
Source: Nielsen Media Research
NEW PROGRAM ANNOUNCEMENTS
Amazon Orders Docuseries with Kal Penn
Amazon has greenlit an untitled docuseries from Will Ferrell, Adam McKay and Adam Davidson hosted by Kal Penn ("Designated Survivor," "Harold & Kumar"). This new documentary series will follow Kal Penn as he embarks on an international tour of the global economy, exposing the fascinating, funny and mind-blowing ways that money plays a pivotal role in all of our lives
The logline: Penn, former White House Associate Director of Public Engagement, will take viewers around the world to meet the geniuses, madmen and hucksters who make the decisions—and investments—that change our lives. From cryptocurrency and money laundering to death and corruption, the series will explore how money, greed and power affect our hyper-connected world.
No launch date (or title) has been confirmed at present.
Leah Remini to Tackle Jehovah's Witnesses on A+E
Leah Remini, who has more time on her hands following the cancellation of CBS sitcom "Kevin Can Wait," will produce a special for A&E that focuses on Jehovah's Witnesses during a break following season three of docuseries "Leah Remini: Scientology and the Aftermath." Remini has a first-look production deal with the network to produce unscripted series. 
The logline on the special on Jehovah Witnesses: The religion, while based on biblical teachings, has come under fire for some practices such as ousting or shunning members who have dissenting views, refusing to participate in politics or government, not celebrating birthdays or Christmas, and for multiple predictions of Armageddon.
TV UPDATES
Debmar-Mercury to Syndicate Sitcom "Schitt's Creek"
Distributor Debmar-Mercury from Lionsgate has acquired the U.S. broadcast syndication rights to "Schitt's Creek," the Canadian half-hour, single-camera scripted comedy currently airing on Pop TV. The series, created by Eugene Levy and Daniel Levy, follows a wealthy family who suddenly find themselves broke and forced to live in Schitt's Creek, a small town they once bought as a joke.
"Schitt's Creek" stars Eugene Levy, Catherine O'Hara, Daniel Levy, Chris Elliott, Annie Murphy and Emily Hampshire. The show's fourth season, which had its finale on Pop on April 11, out-delivered its season one average by 116 percent in adults 18-49, 76 percent in adults 25-54 and 81 percent in total viewers (through March 2018).
"UnReal" Heads to Hulu for Fourth Season
Lifetime drama "UnReal," featuring Shiri Appleby as a young reality television producer working with her unscrupulous boss (Constance Zimmer), is moving to Hulu for its upcoming fourth season. The series will shift from a cable show with a second-run window on Hulu to Hulu as its primary outlet (and Lifetime in second runs). A+E and Lifetime saw an opportunity to generate some additional revenue from the traditionally low-rated series and approached the streamer to offer first-run rights for what could be the final season. Eight new episodes will comprise the upcoming season.
The Daily Brief Podcast: Upfronts 2018 – Click here
Tuesday Overnight Scorecard – Click here
MARK YOUR CALENDARS
A+E will launch original five-part documentary series "Cultureshock" onMonday, June 25 with "Michael Jackson's Final Curtain Call," which focuses on the final days of his life. Produced by Meredith's Four M Studios in association with Entertainment Weekly, each episode of "Cultureshock" will shed light on the untold stories behind the big, unforgettable moments, helmed by an acclaimed director with the full participation of key players from each story.
CBS Summer Series Premiere Dates:
-Salvation" (drama): 
Monday, June 25, 9 p.m. ET
-"Big Brother" (reality): 
Wednesday, June 27, 8 p.m. ET
 (two hours)
-"TLO: Total Knock Out" (reality – series premiere): 
Wednesday, July 11, 8 p.m. ET
UPFRONT RECAPS
For the fall 2018 primetime schedule grid, click here
-That's a Wrap: 10 Key Highlights From Network Upfront Week – Clickhere
–The CW Expands to Sundays, Adds 3 New Series – Click here
-CBS Announces 5 New Series This Fall; 8 in Total – Click here
-Aggressive ABC to Launch 6 New Series This Fall: Click here
-Fox to Launch Just 2 New Series This Fall, Plus "TNF": Click here
-NBC: 3 New Shows This Fall; 9 in Total in 2018-19 – Click here
-Turner Networks' Focus is On Faandom – Click here
-Univision Plans for Future Amid Continued Cost Cutting – Click here
-YouTube Boasts Both Scale and Safety at NewFronts – For more, click here
-Hulu Crosses 20 Million Subscriber Mark – Click here
-Linear Model Still Matters for Optimistic PopTV – Click here
-Connector's Remain Sony Crackle's Key Target – Click here
-Nat Geo Combines Science, Exploration Storytelling to Broaden Brand – Clickhere
-"New" Discovery Touts Scripps Networks Expansion at Upfronts: Click here
-With "Portlandia" Done, IFC Renews "Brockmire," "Documentary Now" – Clickhere
-A+E Celebrates Females in Women's Upfront – Click here
-Nickelodeon to Reboot "Blues Clues;" Introduce New Version of "TMNT" – Clickhere
New Series Trailers: 
-"All American" (CW): Click here
-"Charmed" (CW): Click here
-"FBI" (CBS): Click here
-"God Friended" (CBS): Click here
-"Happy Together" (CBS): Click here
-"Magnum, PI" (CBS): Click here
-"The Neighborhood" (CBS): Click here
-"The Fix" (ABC): Click here
-"Grand Hotel" (ABC): Click here
-"The Kids Are Alright" (ABC): Click here
-"A Million Little Things" (ABC): Click here
-"The Rookie" (ABC): Click here
-"Single Parents" (ABC): Click here
-"Whisky Cavalier" (ABC): Click here
-"The Cool Kids" (Fox): Click here
-"The Passage" (Fox): Click here
-"Proven Innocent" (Fox): Click here
-"I Feel Bad" (NBC): Click here
-"Rel" (Fox): Click here
-"Manifest" (NBC): Click here
-"New Amsterdam" (NBC): Click here
SPORTS
2018 NCAA Division I Softball Super Regionals TV and Announcer Schedule
ESPN's coverage of the NCAA Division I Softball Championship continues with exclusive telecasts of the Super Regionals beginning Thursday, May 24, and continuing through Sunday, May 27, with up to 24 games from eight campus sites. The eight, best-of-three series will be televised across ESPN, ESPN2 and ESPNU with the victorious teams advancing to the Women's College World Series in Oklahoma City, Okla.
The top eight seeds advanced from the Regional round to host a Super Regional. Defending College World Series champion Oklahoma is the No. 4 seed this year and hosts No. 13 Arkansas in Norman, Oklahoma. Last year's runner-up Florida is this year's No. 2 seed and hosts No. 15 Texas A&M in Gainesville, Fla.
For the scheduled game start times (all times Eastern; start times subject to change), locations and respective networks, click here
-2018 NFL Regular Season Weekly TV Schedule on Fox, CBS, NBC, ESPN, and NFL Network – Click here
-2018 NFL Monday Night Football Schedule on ESPN – Click here
ON THE AIR 

TONIGHT


Season finales: "Survivor" on CBS, "Law & Order: SVU" and "The Blacklist" on NBC; "Empire" and "Star" on Fox; "Krypton" on Syfy;"Legendary Locations" on Travel Channel…Sundance debuts drama "The Split"…"Brother vs. Brother" opens new season on HGTV…For the primetime schedule for Wednesday, May 23, click here
TRIVIA CHALLENGE    
A Fast Opening
Which one of the following sitcoms featured the characters on a roller coaster in the opening credits?
a) "Full House"
b) "Hangin With Mr. Cooper"
c) "Step by Step"
d) "Suddenly Susan"
e) "That '70s Show"
The answer to yesterday's question…
Theatrical "Scary Movie" from 2000, directed by Keenen Ivory Wayans, was a parody of the horror, slasher and mystery film genres. Which one of the following primetime television series did not feature someone who appeared in "Scary Movie"? Hint: Read the question again and do it slowly.
a) "Ally McBeal"
b) "Celebrity Big Brother"
c) "Marlon"
d) "Mom"
e) "Saturday Night Live"
f) they all did
Is…e) "Saturday Night Live." Although Cheri Oteri from "SNL" did have a role in "Scary Movie" as Gail Hailstorm, "SNL" is a late night show (and not primetime as specified in the question).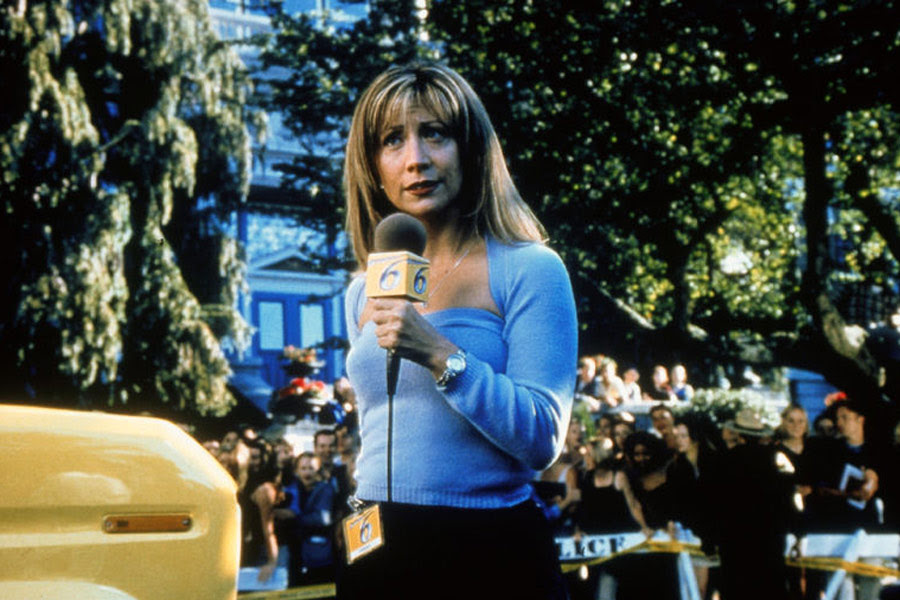 Trivia All-Stars
Bob Ingersoll, Rick Locke, Gordon Purcell, Joe Swaney — that's it!