Samira Wiley wore L'Dezen by Payal Shah diamond earrings and ring and a Hearts on Fire diamond bangle to the to the 75th Annual Golden Globe Awards on January 7th in Beverly Hills, California.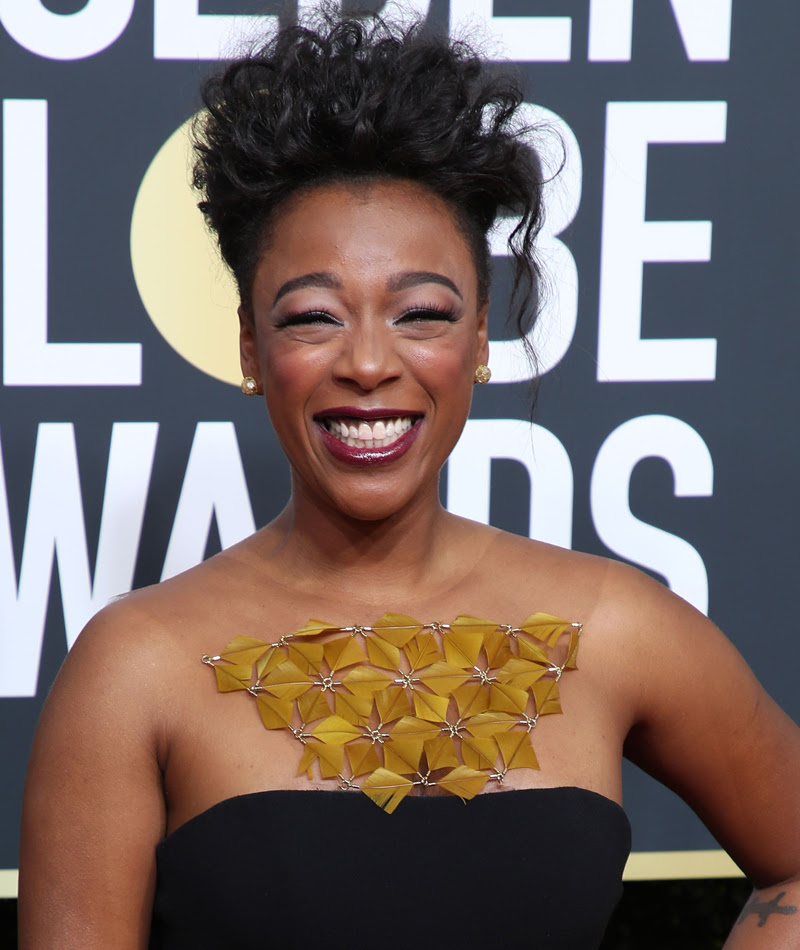 L'Dezen by Payal Shah diamond earrings and ring:
Owner and designer of a flourishing fine jewelry brand at a young age, Payal Shah is a unique creative talent. With a fresh perspective on jewelry design and an unrelenting dedication to her craft, it is no surprise that L' Dezen has already found success among industry influencers and discerning jewelry lovers worldwide. Combining her knowledge of architectural design with the teachings she acquired from her Indian heritage and Chinese culture, Shah launched L'Dezen Jewelry in 2011. The L'Dezen Jewelry collection elegantly walks the line between sophisticated and funky, classic and unconventional. The bold yet lightweight designs are modern but anchored in classical schema. The beauty of L' Dezen's sophisticated designs also lie in the exemplary craftsmanship of each piece. The designs are carefully hand crafted. Each piece being unique, it takes a great deal of time, patience and attention to detail to create each jewel. For more information, please visit http://www.ldezen.com
• Instagram: @LDezen
• Facebook: @LDezen
• Twitter: @LDezen
Hearts on Fire diamond bangle:

Founded in 1996 by Glenn and Susan Rothman, Hearts On Fire became the world's first branded diamond, the only diamond in the entire world, which is deemed perfectly cut every single time. Hearts On Fire diamonds have a brilliant difference that you can actually see, a perfection seen nowhere else in the world. Hearts On Fire has rapidly evolved into the highest standard of diamond cutting perfection.  More than just diamonds, Hearts On Fire is about romance and passion, love and emotion and creating perfect moments.
Today, Hearts On Fire is sold in more than 500 retail stores in 32 countries around the world, including more than 10 Hearts On Fire stores globally, as well as on HeartsOnFire.com and authorized HOF retailer websites. It has become the standard of perfection when proposing marriage or recognizing any perfect moment in your life. For more information, please visit www.heartsonfire.com
•
• Instagram: @heartsonfireco
• Facebook: @heartsonfire
• Twitter: @heartsonfire