Kira Noir, Seth Gamble, Emma Rose Crowned Performers of the Year; Charly Summer Wins Best New Starlet; 'Grinders' Gets Grand Reel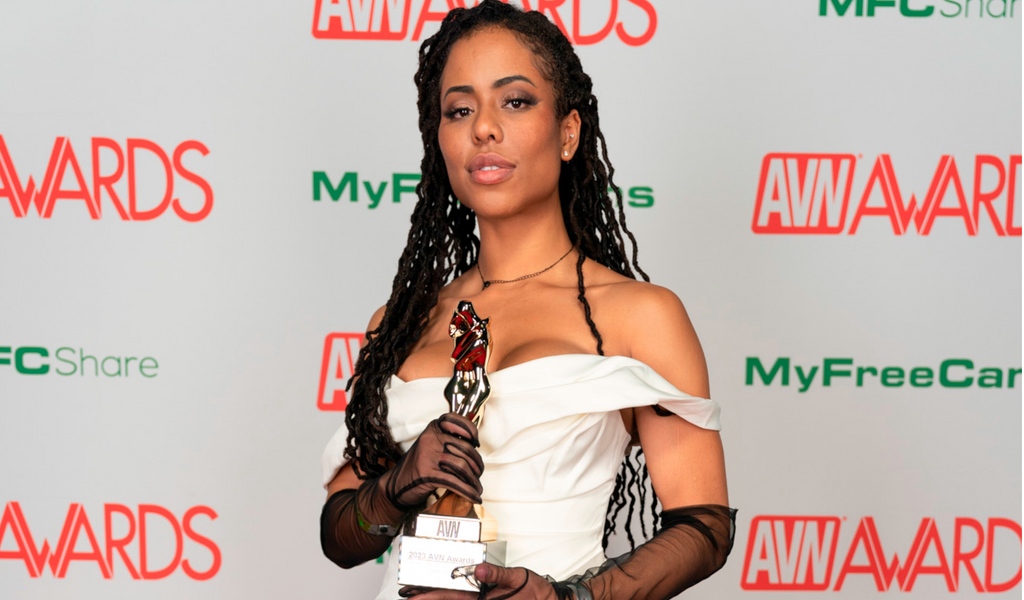 By Dan Miller / AVN
LAS VEGAS—Kira Noir slipped into a flowing white gown for the 2023 AVN Awards Saturday in a fashion statement about her love for the adult industry.
"This is a wedding dress that I made very slutty with one of my friends, actually," Noir explained.
"And I just wanted to marry my work and marry the adult industry. I wasn't even worried about winning… This is just me and my wedding to porn."
Noir felt the love in return on an unforgettable night in Vegas, where the former stripper at Larry Flynt's Hustler Club in East St. Louis won the 2023 AVN Female Performer of the Year award at the all-new Resorts World Las Vegas theatre.
"I'm really proud of the work that I've done with my friends," a teary-eyed Noir told AVN backstage. "The people that I've met in the porn industry are some of the best humans on the planet. It's why I've been here for so long—I love them.
"It still doesn't feel real. I'm still waiting to wake up. I don't think this is actually happening."
Noir became the first Black woman to receive the crown in the 31-year history of the award that was first presented in 1993. Hundreds of the 2500-plus in attendance at the state-of-the-art venue gave Noir a standing ovation as she made her way to the stage to accept the industry's top trophy for a female performer.
The 28-year-old star—who was born in California but grew up in Nashville—made her boy/girl scene debut in 2015 with Damon Dice, amassing more than 550 performing credits in the past eight years for every major studio in the business.
"I've said it before—and that's why I think everybody was clapping for her—she deserved it," Mark Spiegler, who is Noir's agent, told AVN Sunday. "Even earlier, but she deserved it. She earned her stripes. She's been around for a while and she's done everything—gonzo, features; she's done mainstream. She's super easy to get along with and a really nice person. There's basically no downside.
"She still can't believe it this morning."
Things got real for a lot of industry luminaries at the 40th annual ceremony that was presented by MyFreeCams and co-hosted by superstar performers Abella Danger and Reya Sunshine along with comedian Matt Rife.
International media from Asia to South America covered the star-studded, three-hour red carpet that turned into a parade of the industry's finest in the hallway leading to the Events Center.
Once inside the massive three-level theatre, the well-heeled crowd grooved to live performances from recording artists Kehlani and Shenseea in between more than 20 awards presentations with the help of the Official Trophy Girls Xxlayna Marie and Britt Blair.
In what was the first in-person edition of the AVN Awards Show since January 2020, the top honor for a new female performer went to the former Catholic schoolgirl from Florida, Charly Summer, who authored a breakout year in 2022, doing several career firsts en route to the coveted Best New Starlet award.
Represented by Motley Models, the petite showstopper racked up more than 75 credits during the awards eligibility period, demonstrating a go-for-it attitude and the performing prowess to be able to do it all.
When Summer took the stage wearing one of the evening's most revealing ensembles—custom-made by Nusi—she thanked her agency, her fans and her friend Chef from Disciples of Desire, who "taught me everything I know."
"It feels incredible," Summer told AVN's backstage insider, Aiden Ashley, when she stepped behind the curtain. "I know I'm right where I'm supposed to be and Catholic school got me ready for this."
Born in Boca Raton, Fla., Summer moved to North Carolina when she was 5 and then back to Florida for her sophomore year of high school. Before she made the move into adult, Summer used to post nudes on Reddit under the username "kittytinyfeets" just for laughs—but she soon began receiving thousands of up-votes and hundreds of comments.
When a March 2019 post titled "I may not be a Top Chef but I'd look good on top of one"—in which she was standing butt naked in the kitchen—made it to the front page of Reddit, Summer realized that a full-fledged career in adult might be viable in the future.
She signed with Dave Rock's Motley Models upon the recommendation of Chef—and the rest now is part of porn history.
"I think I'm just a performer at heart," Charly said in the backstage winners circle. "I love entertaining and I just knew that I had to come do something like this.
"I definitely pushed all my limits last year and worked harder than I ever have before."
Summer also starred in the 2023 AVN Best Star Showcase, Ultimate Fuck Toy: Charly Summer, a four-scene clinic in hard balling that was produced and directed by Hall of Fame shot-caller Jules Jordan.
Seth Gamble enjoyed an enormous night of individual honors, winning the AVN Male Performer of the Year award for the first time and the Best Leading Actor honor for the fourth time in his soaring 16-year career.
Stylish in a black jacket and tie, Gamble thanked Gamma Entertainment, the heavyweight company that signed him to an exclusive performance contract, Wicked Pictures and Hall of Fame producer/director, Axel Braun, who has become his mentor.
He also gave a shoutout to "every single male performer—we work our asses off every single year."
"And I want to thank every girl in this room that I got to work with."
During photos in the winners circle, Gamble took a moment to stare at the trophy in his hand—realizing his dream had become reality.
"I could not fucking believe it," Seth said. "I'm in shock. I'm in fucking shock. I've been trying to do this for so long."
The Male Performer of the Year callout marked Gamble's second time on the stage Saturday night—he had already gone up to accept Best Leading Actor for his terrific turn as Travis Carmichael in Casey Calvert's Going Up for Lust Cinema.
Gamble's role entailed him playing an actor attempting to save a high-stakes play from disaster on opening night.
The native of Florida said accepting the Male Performer of the Year award on adult entertainment's biggest stage "was fucking surreal."
"I know this is like really dark, but I shouldn't be alive, dude," Gamble told AVN moments later, holding back tears. "Six years ago, the way I was, I was just fucked. I didn't even know this was attainable. I was just hoping that maybe they'll recognize my acting at some point.
"And now six years later I'm the top male performer in the business for AVN. I just have so many people to thank for it because I couldn't do this alone. All the girls I've worked with, my wife [Kenzie Taylor], Axel, Gamma, Bree [Mills], Kayden [Kross], Casey. I got to be in everybody's big movie this year. The Grand Reel category I'm in 60 percent of them.
"I directed one."
Of the ten titles nominated for the 2023 Grand Reel award for the most outstanding movie, Gamble starred in five and created a sixth—Deranged (Vols. 1 & 2), his debut narrative feature for Wicked Pictures that was produced by the four-time AVN Director of the Year and Wicked Pictures Head of Production, Braun.
"It's just been the greatest year of my career," Gamble continued. "It's just such an honor. You guys are the barometer. I'm going to bring honor to the AVN Male Performer of the Year as much as I can."
The 2023 Grand Reel award went to Grinders, an Adult Time production set in the skater community, circa 1999—starring Lucky Fate and Maya Woulfe.
The 2022 Director of the Year Ricky Greenwood told AVN Grinders was years in the making and could not have been done without the help of his talented cast and crew, not to mention Adult Time's leap of faith.
He had shopped the idea to other studios before Gamma's blue-chip studio brand Adult Time green-lighted it.
"The Grinders project was a story that I had for a long time that I really wanted to do," Greenwood said, adding that one studio in particular told him the indie romance that unfolds on New Year's Eve at the turn of the millennium was "too crazy, too ambitious to be achieved."
"So when Adult Time asked me to direct a feature for them, they said, 'We have some ideas, but do you have anything you want to do?' And I pitched them this story and they said, 'We like the idea, we like the visual and we think we can achieve that.'"
Led by the 2023 Best Male Newcomer winner Lucky Fate—an experienced skater who at the time was a largely unproven commodity in porn—and his fast-rising co-star Woulfe, the production came together over two eventful days in March 2022 in Los Angeles.
"I said if I'm doing this I need people who can really do skateboarding because a lot of the movie is visual skateboarding, so I was lucky enough to find Lucky," Greenwood said.
Veteran studs Robby Echo and Nathan Bronson also knew how to skateboard and practiced for their supporting roles.
"It was very risky for Gamma to give the lead to a guy who is a newcomer, who is not someone you can necessarily put your big-budget movie on," Greenwood noted.
"But Lucky was great and he really enjoyed doing something that was close to him. That's what I like about directing is when people can show their ability when they never had a chance to be acting in a role.
"He took the role very seriously. We decided in November 2021 to do that movie and the process took a few months. After AVN we felt comfortable with those guys, and in mid-January, Lucky, Robby and Nathan—without me asking—they started skateboarding.
"They called each other without me knowing and went to the skate park, not really knowing each other at that time. They created a friendship and you can see it in the movie how they bonded over skateboarding."
Greenwood, a native of Montreal who directed his first adult movie in 2017, also lauded Shawn Alff for penning a well-crafted script.
In the category that had the most pre-nominations in the entire awards show, the 2022 Best New Starlet Blake Blossom and Jax Slayher accepted the gold statuette for Best Boy/Girl Sex Scene for their performance in "Dream Slut, Blonde, Stacked, Blake Blossom Worships Jax Slayher's Giant Cock" for Jules Jordan Video.
The blonde bombshell Blossom said when she gets on set with Slayher that it doesn't feel like work.
"I don't know, we just have pure, true chemistry," said Blossom, who was raised in Arizona. "I genuinely love him, the love is there and every scene I do with him it feels like it's not even a job.
"Like when I see Jax on my [call sheet], I'm literally like, thank fucking god, I'm about to get fucked to shit. And I feel great for the next month, all of that negative energy is gone."
"It's always a fun day when I'm working with Blake," said the veteran deal-closer Slayher, who stepped up to the AVN Awards stage in his first time attending the show.
"It was a whole lot of emotions, I was excited," said Slayher, who played major Division I college football before adult. "Oh yeah, different sport, but to me it's just dominating. That's what we did, dominated."
"We're sexual athletes," Blossom said. "We've gone like 54 minutes straight in a scene before."
Emma Rose captured the Trans Performer of the Year award just three days after her three-year anniversary in porn.
"Oh my god, I was shaking," Rose said. "This is my very first AVN, so it's like all very overwhelming."
A native of Florida who now resides in Vegas, Rose earned a degree in marketing before adult and then worked in an office job and as a stripper before making her debut.
"And I just love the adult industry too much," Rose said backstage, adding that she was thankful that directors pushed her to take on bigger roles in 2022.
"Instead of just like your normal suck and fuck scenes. They really pushed for having quality scenes, acting and big names and I think it just helped really bring me to the top."
Stunning in a satin red gown, Rose said her AVN look was inspired by classic glamour.
"Vintage looks are timeless and so I was channeling my inner Marilyn Monroe and very modern," she added.
Vixen Media Group contract star Maitland Ward won her second Best Leading Actress award in the past three years in her splashy star vehicle, Drift, a five-part Deeper production directed by Kayden Kross that debuted around the same time as Ward's first book, Rated X: How Porn Liberated Me from Hollywood in September.
The narrative of Drift served as a metaphorical parallel for Maitland's journey from Hollywood to triple-X stardom.
Ward led an accomplished ensemble cast in a powerful performance that reflected the contents of her best-selling memoir—a project that led to another 2023 AVN Award for Ward—Mainstream Venture of the Year.
"Kayden and I got to together and said, 'What do we want to create this year?'" Ward told AVN in the winners circle. "And my book was coming out and everything and we said, let's play on that. Let's play on your life, like a really metaphorical, but a more dark and twisted version of my life. So we said let's play with it, let's do the sitcom.
"Let's do all of these dark, twisted things but have a character who is sort of like myself but not. So it means so much that Drift was like so close to my heart."
Ward and Kross—who won Outstanding Directing – Individual Work for Drift, in addition to Best Directing Portfolio-Narrative—took influence from Natural Born Killers and Blue Velvet while striking chords reminiscent of Ward's earlier work on the Mistress Maitland series.
The pair juxtaposed the idea of living for the public and some of Hollywood's cliches, but in private longing to quench her true needs despite the risks.
"It was amazing that it came together in such a big way," Ward said. "Because in the beginning we had different ideas but then all of a sudden it came together like this is it, this is it. … All of the fans, they just love it, they identify with it. And Seth [Gamble] and Mick [Blue] gave great performances.
"It was so wild to have Mick and Seth on a sitcom set. And when we were doing the lines and everything I was like, wait a minute, this is really full circle right here because I'm back on a sitcom set—in a porn set."
Kayden Kross, a Hall of Fame performer who has become one of adult's most respected directors with three Director of the Year honors heading into Saturday, told AVN she has learned so much being behind the camera, including, "how much of it is intuition."
"I learned what I want," Kross told AVN backstage. "I didn't know what I wanted as a performer but I know what I want as a director. I've learned about people a lot. And getting back to intuition, an intuitive sense of people that I didn't have as a performer."
The sensational Amouranth took the AVN stage to accept the Fan-Voted award for Favorite Creator Site Star in the first year it was given.
Born and raised in Houston, she told AVN she started out on Twitch in 2016 before segueing into Patreon and OnlyFans.
In a gorgeous red dress that she said was inspired by Jessica Rabbit, Amouranth pointed to 2020 when the pandemic hit as when things began headed toward the stratosphere for her.
"Everyone kind of turned to online and things just kind of blew up from there," Amouranth said. "This is surreal and crazy. It feels like a dream."
Her memorable stage name "was actually a cosplay name," she added with a smile.
"I should've changed it but I didn't and now it's just a mouthful."
Laney Grey and three-time Male Performer of the Year Mick Blue climbed the AVN stairs to pick up the first award of the night—for Best Oral Sex Scene for the best blowjob of 2022, a Throated/Blowpass production.
For the LA native Grey, it was her first AVN Award after three-and-a-half years in adult.
"I wasn't expecting to win this, this is insane," Grey said on stage. "I'm just at a loss for words right now."
When they disappeared behind the curtain, Grey told AVN that she watched Blue's porn a lot prior to their first meeting on the set.
"I was just so nervous to work with Mick and I wanted to do a good job, so I really tried my very best," Grey said.
"It was our first time working together, so it was exciting," said Blue, the Austrian gunslinger who also won three additional awards Saturday night. "I met her one time before. She just has such a great personality and that's why I booked her and as you can see her blowjob quality is amazing. I had a very good day. And she's just a very lovely, sweet person."
Blue turned to Grey, adding, "I'm super happy and proud of you because you did all the work. I only put the penis."
The Best Girl/Girl Sex Scene award went to Vanna Bardot and Gianna Dior for "Heat Wave," which was produced by Vixen Media Group all-girl studio, Slayed.
Bardot also performed in the Slayed scene that won the award last year with Emily Willis. Meanwhile, Dior added to her trophy case, too. She took home the Female Performer of the Year honor in 2022.
Both girls said backstage that the scene felt "very real."
"That whole day was amazing," Dior said.
"This was our first scene and we couldn't believe it took this long for us to get booked together," Bardot added.
As the first girl/girl scene winners to stand in the middle of the Resorts World theatre stage, Dior said, "I felt like a movie star. I felt like we were the best ones in the whole theatre."
"Once you're up there I'm just like so nervous I'm gonna say the right thing," said Bardot, who wore butterflies in her hair on Saturday night. "The audience is a blur, honestly."
MyFreeCams model Aphia DeMieux won the Fan-Voted AVN Award for Favorite Cam Girl for a second time, capturing her first in 2021.
A gamer girl who worked at the Humane Society before she ventured into adult, the December 2019 AVN CAMStar has been a fixture on MFC for more than seven years.
She revealed the secret sauce that keeps her cam shows so engaging.
"Dildo kicking," DeMieux said without a moment of hesitation. "Have you ever kicked a dildo and landed it—stuck it on the wall? That's hard. And I have done it twice.
"But realistically, comedy in my cam shows. I really try to make everyone feel welcomed and loved and I really try to include everyone in everything that I do, even outside of camming. I really try to make my fans feel loved just like they love me."
Former professional swing dancer Cherie DeVille further solidified her place in AVN Awards lure, winning her fourth MILF Performer of the Year crown in a spectacular dress that was hand-made by Lea Lexis.
"She's a fucking goddess," the excitable DeVille said backstage. "She made it, she designed it. It was the child of her amazing, creative brain."
An exclusive contract girl for Brazzers, DeVille said No. 4 is even "sweeter" than the last one.
"Once you've won it once, you're like, I'm good. My career is good. I'm done," DeVille said. "But for people to feel like year after year that you're still doing a good job, you're still at the top of your game. Yeah, it's magical. It feels really good."
Hall of Fame producer/director Axel Braun—the head of production at Wicked Pictures—found himself in a familiar place on Saturday: at the center of the AVN stage, accepting the Mark Stone Award for Outstanding Comedy. This time it was for his delightfully dirty sendup, SpideyPool XXX: An Axel Braun Parody from Wicked Comix.
When he took the stage in a black-and-yellow leather motorcycle jacket, Braun thanked Wicked Pictures' parent company Gamma and paid tribute to the late, great Mark Stone, one of the original creators of the AVN Awards Show who used to be the musical director in addition to a prolific adult director who specialized in light-hearted fare.
Stone, who was the older brother of AVN Awards executive producer Gary Miller, died of liver cancer in 2016 at age 61. To honor his memory, AVN renamed the Best Comedy award. Braun's Black Widow XXX won the inaugural trophy in 2022.
Backstage, Braun told Aiden Ashley, "The first thing that makes movies special is you gotta find the right people to make your movie."
"I actually care," Braun said with his entire cast and crew surrounding him. "I want to make awesome stuff.
"… So when you get the best people in the industry, people who actually care about the product—who say, 'let's go and do something great'—you just follow your heart and that's really the secret."
Kenna James, who played the female lead Mary Jane Watson in the movie, chimed in, "Thank you, Axel, for putting me in this and forcing me to change my hair to red."
Braun replied that he could have asked James to wear a red wig for the character, but she wanted to go all in for the cause—just like 99 percent of his stars do.
"You know why I do it? It's not only because it just looks better [for the character], but if someone's willing to go to that extent for a porn movie—something that is disposable… They could get the same gig tomorrow, be on another set and it'd be less hours. But if they care that much, then you get the performance that you want. … Those are the people that care."
Angela White and Manuel Ferrara, two of the most decorated performers of all time, got together again for the Best Anal Sex Scene of 2023, taking the stage to accept new hardware for their scalding session titled "Florentine Part 1" from If It Feels Good 3 for Deeper/Pulse.
In the scene, the Australian superstar White plays a nurse to Ferrara's patient.
"First of all, you have to know I really had a knee surgery when I was on that bed like a month prior to that, so that was originally the reason why it was a hospital scene," Ferrara revealed. "Because I had a surgery and [director Kayden Kross] wanted to put us in a scene."
"On the receiving end of this lovely man, it didn't feel like he had just recently had surgery," cracked White, who is the only three-time winner of the AVN Female Performer of the Year award.
Ferrara, who has a record six AVN Male Performer of the Year titles, turned to White backstage and said, "We always had a thing, right, this chemistry that for me I don't have with any other girl."
Then they shared a quiet embrace.
White, who now has won 64 AVN Awards in her Hall of Fame career, also earned four more critic-voted awards on Saturday night to go with six Fan-Voted trophies. She has triumphed in the Fan-Voted categories for both Favorite Female Porn Star and Most Spectacular Boobs six consecutive times.
Speaking of winning streaks, the 2016 AVN Best New Starlet Abella Danger, one of the night's emcees, won her fifth consecutive Fan-Voted award for Most Amazing Ass, while the incomparable Johnny Sins claimed AVN gold in the Fan-Voted Favorite Male Porn Star category for the seventh straight time (2017-23).
For the complete list of 2023 AVN Award winners, click here.
For a winners circle photo gallery by Jeff Koga , click here.